Tripawds is a user-supported community. Thank you for your support!
Hi Everyone – On October 18, our 9 year old Great Pyrenees  Tahoe had to have his right real leg amputated.  He was hit by a FedEx truck on October 17th.  There was not enough tissue left to save the leg.   What a day!  The surgeon informed us that dogs and cats really only need 3 legs and that they are all born with an 'extra'.  This did make us feel a bit better, we still had no time to prepare.  Not that there is any way to prepare.  The Tripawds website was a real find!  I was worried though, most of the dogs I saw had their front limbs removed (mine was a rear), none of them were a Giant Breed (I have a Pyr).   Would he be able to manage? Would we be able to manage him? Would we be able to help him manage himself?   I also reached out to my Pyr community on Facebook – there were other 3-legged Pyrs!  And there were other 3 legged Pyrs BIGGER than mine.  There was light at the end of walls that seemed to be closing in around me.
We had to wait overnight.  The surgeon wanted to evaluate him to be certain there were no internal injuries from the accident.  Our guy had been transported from the vet who stabilized him, to the specialty hospital for the surgery.  The surgeon called in the morning and said he was healthy enough for the surgery (good news!).  We would still be bringing home a large dog with a leg missing – a large dog who LOVED to go on long long walks everyday.  Everyday I took him, morning and evening, on two car rides, to different parks and trails, and walked miles.  He loves the variety of trails and the bushes to pee on that they offer. He is a Pyr and he does have his territory to mark and maintain!   But, what would happen when he couldn't do this for a while.. would he be sad, depressed.. my mind would think of too many things.
After the surgery on Thursday,  we were called and told that there had been no signs, not one, of arthritis anywhere.  Good news!  The vet told me that whatever I was doing, keep doing it.  Well, I do cook him beef stew with veggies for over his kibble and feed him treats for healthy hips and bones.  I wasn't gonna stop before and I'm not gonna stop now….
Friday I visited.  That was hard.  I read that I needed to stay strong and be happy.  If I was sad he would be worried about me and why I was sad.  I knew this was true.  It was great to see him.  He drank lots of water for me and ate some food too.  I took his own treats and food, and informed the techs he was used to being fed by hand and off of wooden spoons, which I also brought.  They did this for him.  They fell in love with him.  Who couldn't?   I brought the Ruffhouse Webmaster harness the surgeon recommended.  Size L/XL – the biggest it comes in.  It JUST fits…  It is a life (and back) saver.
Look at that happy smiley face!!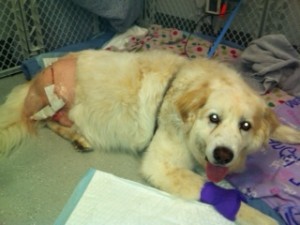 Saturday we visited.  They showed us how to get him up.  Harness and sling at this point.  But he can walk and he's doing good.   Good, until it's time to pee.  Sniff, sniff – oh this bush is interesting… (I can see his mind working…need to pee on this bush! Lift a leg!  No leg to lift! Fall over. Refuse to pee.)  Saddest site ever.  He has to be catheterized.  Did I mention that my dog never peed to empty his bladder?  He only peed to mark his territory.
Sunday morning update from the vet:  Tahoe is doing great! Except that he won't pee and he still has to be cath-ed.  Argh. On Sunday when I visit I have a "serious discussion" with Tahoe.  I explained to him that he cannot come home until he figures out how to pee standing up.  And that it would have to be one or two long pees, not 86 short squirts.
Monday – Phone call  – Tahoe peed Sunday night, and in the middle of the night and Monday morning!!  Tahoe can come home!  Yeah – we were ecstatic!  We left immediately to get him.  (Did I mention we bought him a mini-van to accomplish this? No offense, but we were not the mini-van types.)
Tahoe with his gifts and cards from friends and family…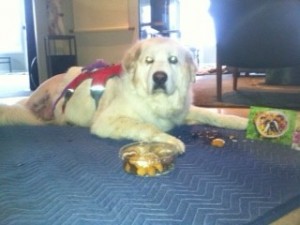 We had been told by other tripawd owners that the first 4-5 days are the hardest.. and boy they weren't kidding!  I slept on the main floor with him.. he'd go from room to room every hour or so, and not easily. I 'd hear him and help him.  I really never quite slept those first few nights.  He was eating and drinking though – and  – peeing and pooping.  I was all going to be ok.  And it still is.
His stitches came out on Oct 31.  FrankenPyr was his natural state for a Halloween costume – a foot long incision will do that.  He felt fine enough to bark at the doorbell for trick-or-treaters too!  His walks are still very very short, but they are getting easier for him.  And he loves to get out in his mini-van for a ride and  a short walk somewhere different from time to time.  We are slowly getting back to normal.
What has helped?  Well, he hated the "cone" and we got the "cozy cone".  It was ok that he hated it anyway since he really didn't bother the incision very much.  So, I put a skirt on him.  A girls size 14-16 elastic band skirt.  Why? I could attach it to the harness and it covered the incision in case he felt like a lick, he couldn't get at it.  And most importantly, it can be "hiked-up" for peeing and pooping.  It's not easy putting things on and off of a 3-legged Pyr… there's just no stability.  🙂
He sometimes whines a bit in the middle of the night.  The only thing that helps there is a huggie.  I get out of bed and hold him and kiss him for a few minutes.  I tell him how brave and strong he is, and that he is a trooper.  He falls right back to sleep.   He is a sweet baby.
Healing sleep..