Saturday, November 22nd, 2014
Tripawds is a user-supported community. Thank you for your support!
I've been putting it off, and putting it off, then off some more.  Writing this post that is. And knowing I never ever wanted to write this post.  But there, in the dark recesses of my mind lives the lingering thoughts that keep telling me it needs to be done.  So, here I am doing it – writing my last posting on Tripawds.
With all the sadness that I think a person's heart can withstand and continue to beat, Tahoe crossed the Rainbow Bridge on August 1, 2014.  My heart has felt like it has been punched; it feels as though it is being crushed and squeezed.  They (whoever 'they' are) say that if you are lucky you get one, or maybe two "heart dogs" in your life.  Those special dogs that connect into your spirit in a way different than other dogs you have owned.  'They' say this is almost cruel when it happens to you because when the dog is gone, they take a part of you with them that can never be replaced.  'They' sure are right about that.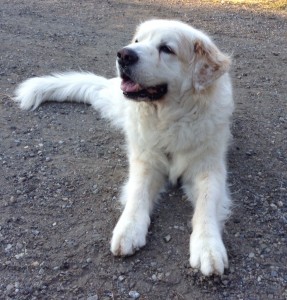 Tahoe was my heart dog.  He got me and I got him. We had that connection.  We had that connection prior to his accident and the ordeal and aftermath of the amputation only brought us closer. I know some of you reading this understand what I am talking about and some don't.  For those that don't, I wish for you a dog that is your heart dog, although the pain when they die is so great that maybe I don't wish it on anyone.
It was summer and it was hot.  And I have a three-legged male dog that refused to:
Pee or poop in his own yard, ever, and
Pee all in one location. He was a maker to match all markers.
Walks were the only way.
Tahoe was taking more breaks on his walks than normal.  I had him on Rimadyl and wanted to have his blood work done to check that there was no damage being done to his system.  The blood work came back – all within normal limits – a surprise even to the vet considering Tahoe was nearing his 11th birthday.   I still have the report and I'm still amazed at how perfect it all was.
But Tahoe was still taking long breaks while on his walk; just not quite normal for him.  It was still so hot and I attributed these breaks to the heat and his age, and what the toll heat and age can take on a nearly 11yr old Great Pyrenees with three legs.  His fan, with him right in front of it, ran 24×7.
My gut told me something wasn't quite right.  And within two weeks back to the vet we went for x-rays.  The sedation worried me and knowing he'd have to be there until the sedatives were out of his system worried me.  I was worried about him because I knew he would be worried about me – he is a Great Pyrenees after all.  Pyr owners will fully understand this.  So I packed up his fan and bed for him to have during the day at the vet getting x-rays.  I'm probably the only person to have shown up with a fan for their dog at the vet's office.  But he loved it, I loved him and I wanted him to be comfortable – it was summer and it was hot.   No abnormalities in the x-rays.  No fractures, no shadowing.. completely normal and healthy dog!
Something still wasn't right.  I knew it deep in my heart of hearts.  About two weeks later, as I was walking him, he laid down. For a long time.  Again, nothing really new with this.  Sometimes I could leave him and bring his minivan to him.  But I couldn't this time as we were too near a road if he tried to get up and follow me.  (He had ZERO car savvy as evidenced by the accident that left him a tripawd in the first place.)  We waited it out, I helped him cross the road.  The thing to keep in mind here was that Tahoe always wore is harness and I always helped support his hind end by holding up the harness when walking him. This time I had to pretty much carry him across. 92lbs. We got across the road, he laid down again, and I noticed his left front forearm was about twice the size of the other.  My heart sunk. Fortunately, two women happened to see us when they drove past and knew something was wrong. They parked and came to stay with him while I got his mini-van.  I lifted him in and I headed straight for the vet.  I was in tears. He was on a car ride and happy.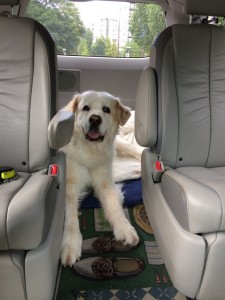 X-rays we taken immediately and revealed osteosarcoma. From the wrist half way to the elbow on the left front forearm.  You might be asking why it wasn't seen in the x-rays two weeks earlier?  The x-rays done then were only done on the back half. The vet said he never suspected cancer with his perfect blood work so he only took x-rays on the back half assuming something was going on with his remaining rear leg or knee.  The vet did tell me that he feels he did me a great disservice.  That he should have taken the full x-rays the first time because as the owner I know when something isn't right even if it can't been seen right away. Owners have instincts that way.
Is there a moral here with the vet? No, I don't think so.  Even if he would have taken the full body the first time, the results would have been the same and the same decision would have been made.  My advice is to trust your gut.
How tragic and unfair it is that my best friend, my heart dog, who became a tripawd due to an accident and not cancer, ended up with cancer and no option to amputate.  Utterly heartbreaking.  One week shy of his 11th birthday, August 8, 2003.  On August 1, 2014 we held him, we told him we loved him, we told him we'd never forget him. I told him I'd never be the same and thanked him for that.  It was a Friday, it was summer and it was hot.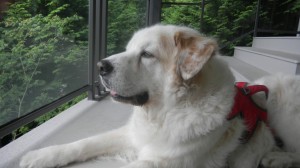 In full disclosure as I sit here typing this, I am in tears.  On my lap is a 6 year old Chihuahua Pomeranian mix we rescued from the SPCA a couple weeks ago and she is looking at me lovingly with her brown soulful eyes trying to figure out the tears that have fallen on her.  She's no Great Pyrenees, but she is in her own mind, which I just adore.    I love her.
Will I own a Pyr again?  I'm not sure. I know I'm not ready yet and I'm not sure I ever will be.  It is my favorite breed.  I'll continue to do volunteer work for the National Great Pyrenees Rescue. And yes, I do that volunteer work with a Pomchi on my lap. 🙂
RIP sweet Tahoe.  Run free on all four. Attack newspapers. Bark at mailmen and give stink eye to the mail vans. Pee on every bush.  Mamma loves you and misses you every minute of every day. Someday we'll be together again. xxoo